TOP 5 SPA centres in Pomorskie
Małgorzata Mrozek
05.04.2019
They help to get away from everyday's problems, gain strength for new challenges and, most of all, take care of well-being and looks. Wellness centres hone their offers both in terms of services, as well as facilities. Top SPA hotels in Pomorskie are visible proof of that. International Women's Day is a perfect occasion to experience it first-hand. Even more so that each of these places has prepared something special for the ladies. Below are 5 TOP SPA centres worth visiting that we selected.
Relaxation workshops, view on the sea and professional, full-body care is what transforms SPA hotels into true wellness centres. Today's centres are nothing like they used to be, when SPA packages were limited to using the pool and several treatments to choose from, performed in a small room. It's no surprise that they try to attract guests on different occasions. Hen parties or weekends for two that these hotels organise are long remembered by anyone. Which are the most popular SPA hotels in Pomorskie?
1. Grand SPA at Sofitel Grand Hotel
Grand Spa in Sopot is a place for demanding guests, who will appreciate both impressive treatments based on luxury brands, such as Elemis or Sothys, as well as incredible surroundings. Combination of exclusive wellness packages, in which natural, herbal products come with innovative technology, allows for complete regeneration of body and mind. Guests of Sofitel Grand Hotel can not only take advantage of anti-aging, beauty treatments that utilise concentrated sea ingredients from Laboratory Andre Zagozda, but also enjoy the view on the sea from the swimming pool, or stroll along the longest wooden pier in Europe. Grand SPA allows you to relax by the sea, but also take care of your physical fitness in a renovated gym with a view on the garden.
Check out the full offer of Grand SPA!
www.sofitelgrandsopot.com/pl/grand-spa-i-sofit/
2. Quadrille SPA at Quadrille Hotel
Gdynia-based Quadrille SPA is also a perfect place to relax. It offers not only treatment programmes with latest technological advancements in cosmetology, but also modern, comfortable interior. Aside from face and body therapies, treat yourself to an original massage session, or relax to the sounds of singing bowls. Enjoy a variety of specialist treatments, including rejuvenation therapies as well as treatments for hands and feet. Meticulously designed interior facilitates regeneration. And the picturesque garden will make you feel like part o "Alice in Wonderland". Lewis C. Carroll's novel, by the way, was the theme that inspired the entire hotel. Each room has been designed in a magical way, and meals are served in White Rabbit (Biały Królik) restaurant.
Check out the full offer of Quadrille SPA!
www.quadrille.pl/spa/oferty/dayspa/
3. Wieniawa SPA & Wellness hotel
Located in Rekowo Górne, near Gdynia, Wieniawa mansion is perfect to reach the state of complete relaxation. The hotel, with its own mini golf course and tennis court, offers not only rich history and numerous facilities, but also SPA packages, and – most of all – much-desired peace and quiet. This enchanted palace allows you to relax in numerous ways. Enjoy warm oil massages, face treatments, or sauna and pool. Its offer makes Wieniawa Hotel an ideal spot not only for women, but also for couples who would like to spend some quality time together during a romantic weekend. A nourishing and relaxing wine bath, or cleansing and moisturising beer bath await.
Check out the full offer of Wieniawa SPA & Wellness!
www.hotelwieniawa.com/dzien-kobiet-pakiety-dayspa/
4. Notera SPA Hotel
Located by Charzykowskie Lake, Hotera Hotel does not limit itself to SPA treatments, but rather focuses on the broadly understood wellness. The well-being of guests is number one priority. The hotel realises self-awareness programme, and the SPA centre has become an integral part of the surrounding nature. Daily schedule is set to facilitate state of deep relaxation. Natural SPA treatments (such as sea buckthorn body massage, or Cleopatra's milk treatment) are accompanied by the mystical world of saunas and sauna ceremonies and rituals, deep relaxation sessions, floating sessions, and autogenic trainings. Enjoy additional activities, such as meditation, yoga, spontaneous dancing, mindfullness workshops, body workouts, aerial yoga, or singing bowls. Nera Hotel organises various themed weekends, such as Latino or conscious wellness.
Check out the full offer of Nera SPA Hotel!
www.hotelnotera.pl/spa/#strefa_spa
www.hotelnotera.pl/oferta/ladies-dzien-kobiet-w-notera-hotel-spa/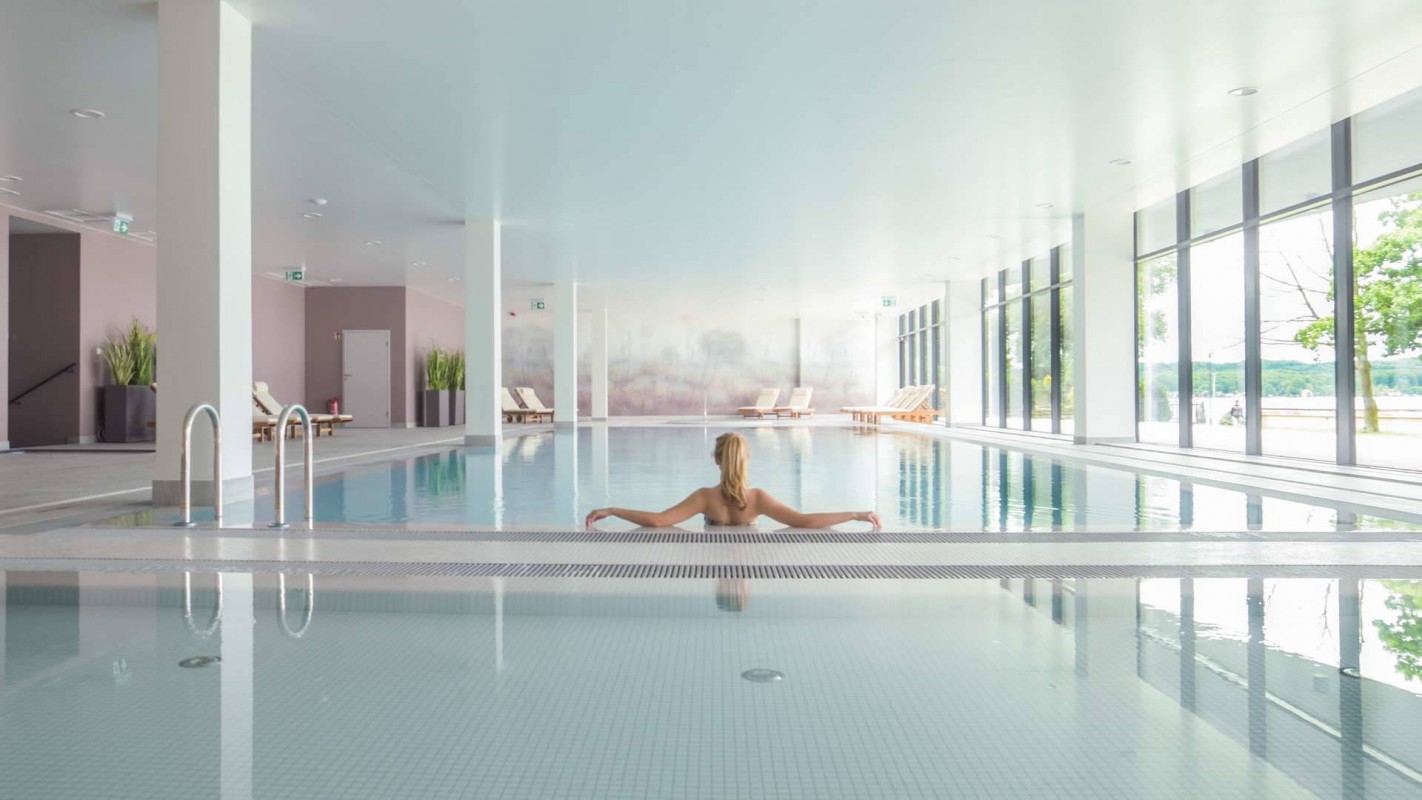 5. Beer baths in Szymbark Hotel
Located in the so-called Kashubian Switzerland, Szymbark Hotel prides its beer baths that attract both women and men. As the sessions are exclusive, they are mostly attended by couples. A 45-minute long beer bath, with music and candles, allows to chill out and puts you in a great mood. A special mixture of herbs and spices used in beer production, rich in B vitamins and minerals, makes the skin firm and smooth. Aeration of water in the bathtub is of great importance as well, as it facilitates relieving muscle tension. A beer tap in the wall is an icing on the cake. It allows to enjoy fresh beer from Kaszubska Korona brewery (Kashubian Crown), which is brewed in Szymbark.
Check out the full offer of Beer Baths!
www.hotelszymbark.pl/piwne-spa
Relaxing massages, sauna sessions, beer and wine baths – all in the surrounding of historical parks, and sometimes even with a view on the sea. SPA hotels in Pomorskie have a well-deserved position among the best of the best in the country. These centres attract tourists from all around Poland, as well as from abroad, who look not only for professional face and body treatments, but also a getaway in well-designed interiors. In other words, they're looking for a place that will help them heal their bodies and souls.
PARTNER
redakcja@zatokapiekna.pl
RECOMMENDED FOR YOU